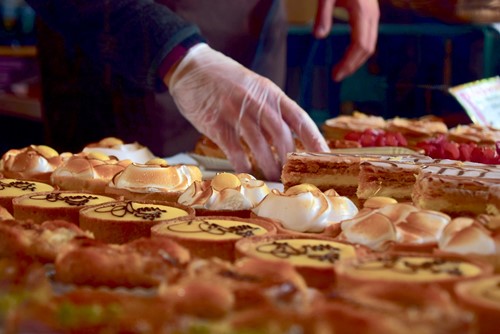 Hosting can be a fun and exciting way to bring everyone together. However, there's always a list of things to remember, including prep and what to do during the gathering. Here are a few of the best ways to prepare for your home gathering and keep you and yours happy and healthy while enjoying each other's company.
Food Safety
There's likely to be food present during your shindig. Whether it's finger food or food with a little more gusto and robust dining experience, maintaining a clean and stately food preparation area is key to having a safe and healthy gathering. Best practices include:
- Prepare with gloves. Use gloves when preparing any type of food item, especially if you have guests that may have food allergies. You'll want to change your gloves after each dish to keep cross contamination to a minimum.
- Clean produce. Wash produce thoroughly before incorporating it into your dishes, using as garnish or serving as a quick snack. This ensures that you remove any lingering dirt or bacteria from the dish. It also gives you peace of mind knowing nobody will be in for any unpleasant surprises.
- Separate proteins. Keep poultry, red meats, pork and other meats, especially raw, separate from other foods while preparing them. Cut and prepare raw meats on nonporous surfaces. If you're using non-meat proteins, you may still want to prepare them on a nonporous surface. This helps keep potentially allergy-inducing or pathogenic substances from contaminating other dishes after cleaning the surface.
- Keep your hands clean. Wash your hands between each type of food being prepared. For example, wash your hands thoroughly after dealing with meat and/or produce before moving on to dry portions of your food prep. Some foods absorb moisture, flavors and anything else that may linger on your hands. Even when using gloves, keep them thoroughly washed or replace them while preparing food.
- Cook food to proper temperatures. Make you cook your food to the right temperature. Many meats, especially poultry and pork, must reach an internal temperature of at least 165 degrees. Anything containing eggs should also be cooked thoroughly before serving. Red meats differ depending on center temperature and preference, but should still follow any guidelines provided on the packaging.
- Wash everything. Once you're done preparing the meals, make sure that utensils and prep surfaces are completely clean. Clean up after each course or plate to reduce the workload after prep. Keeping your work area clean not only reduces clutter, but reduces your chance of cross-contamination and helps keep your kitchen clean and food-safe.
Maintenance
The best thing about a gathering in your home is sharing time with loved ones. The worst thing may be cleaning up after those loved ones have enjoyed your event.
Put small, easily accessible trash cans or receptacles throughout the entertaining area. This passively helps guests clean up after themselves when they're finished with their food or drink. You may also want to set up a small station where guests can deposit used plates and cutlery to help consolidate your cleaning efforts after the event.
Hosting events and get-togethers is a great way to show off your home, hosting skills and enjoy some well-deserved time with your loved ones. By following these simple tips, you'll be able to spend more time with them and less time worrying about prep and post-cleaning.