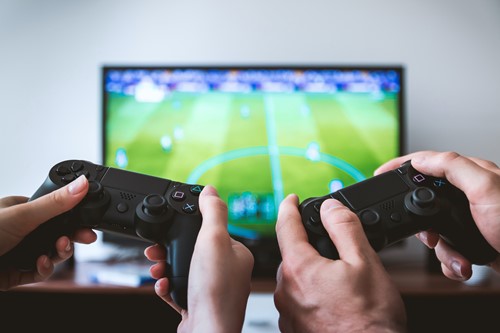 Home theaters are great for watching movies, but they can also make ideal gaming rooms. With a big screen, high-quality sound system and comfortable seating, you can create an enjoyable gaming environment in your home. Whether you want to play old favorites or try new games, these tips can help you with setting up a home theater to use for gaming.
Choose a High-Quality Screen
When you're using a home theater for gaming, you don't need to go with a projector screen. With gaming screens, the biggest size possible isn't what you should focus on. Instead, find a TV that offers minimal lag and high-quality images. These features can provide you with the best gaming experience. Keep in mind that some TVs offer a game mode that helps reduce lag. Ideally, look for one of these TVs to use in your home theater.
Set Up a Sound System
While you might not be watching movies in your home theater, you should still make sure you have exceptional sound quality for games. Many of today's video games have high-quality sound. Adding a surround sound system to your home theater can boost sound quality even more when you're gaming. A surround sound system might also make older games sound better. With surround sound, you might also find it easier to keep track of enemies, targets and other parts of video games, which can help improve your gameplay. For example, you might hear an enemy approaching from behind you on the right with surround sound speakers. This can help you quickly locate and target this enemy compared to playing without surround sound.
Select Gaming Seats
When you have your video and audio equipment taken care of for your home theater, it's time to think about seating. If you're going to spend more time playing games, make sure you choose seats that provide plenty of comfort, including good lumbar support to prevent back pain. You can choose leather reclining seats that allow you to adjust to a comfortable position. You can also look for seats that have special features for a more convenient gaming experience, such as USB ports, cup holders and outlets. If you plan to game for hours at a time, consider a console gaming chair for your home theater. These chairs provide an ergonomic design, built-in sound, vibration and more for an enhanced gaming experience.
Choose Lighting
Having the right lighting can help boost your gameplay while lowering your risk of eyestrain. You should avoid adding lights that produce glare on the screen. Keep lighting to a minimum depending on big or small your home theater is. You can add some flair to the room with colorful LED lights, laser lights or projection lights.
Set Up Consoles
Make sure you have the equipment you need for connecting all the consoles you plan on using. This isn't much of a problem if you'll mainly be using one console, but it can be an issue if you're going to have multiple consoles in your home theater. Keep controllers handy in a storage drawer, so you can quickly grab what you need when you want to do some gaming.