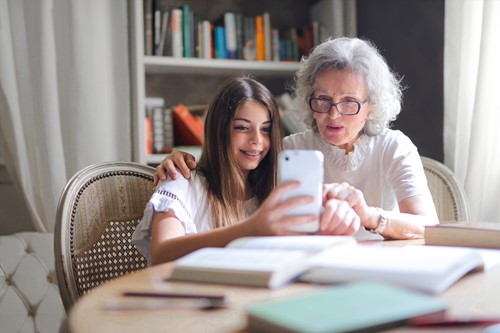 Photo by Andrea Piacquadio from Pexels

Housing priorities of young families and retired couples can vary. More and more households are combining by necessity or for the added convenience. When households combine, invariably, some adjustments will be necessary.
However, the needs of young families with babies and toddlers are not really so different from the "aging in place" guidelines that allow seniors to remain comfortable and safe in their own homes. So, when two or more generations share a home, function and aesthetics are equally vital.
Here are 5 points to consider:
Space Needs
An open floor plan is practical and contemporary, making a home feel more spacious than its actual square footage. Open space should be balanced with private retreats if different age groups are to coexist in harmony. Look for plans that include flex space or a bonus room that's adaptable to specific needs, perhaps as a playroom, a home office or a space for reading and hobbies. Homes with split bedroom wings are ideal for multi-generational living, and a separate "apartment" can often be carved from underused rooms or in a basement.
The Heart of the Home
The hardest-working room in the home should be both functional and attractive. Ideally, a kitchen in a household with two or more generations would accommodate multiple cooks. Plan zoned areas for storage, meal prep, cooking and cleanup. Consider an island or eating bar with appropriate seating and be aware of traffic patterns. Install an under-counter microwave, a second sink, and perhaps remote refrigerator drawers or a supplementary dishwasher, if possible, to boost convenience.
Embrace Technology
Motion-controlled and voice-activated lighting is not only available and fitting, but it adds an additional layer of safety and security. But technology shouldn't stop there. Employ modern high-tech devices to facilitate communication between rooms, to monitor door locks and the building perimeter, and to alert residents to potential equipment malfunction. Investigate sensors that provide early warning about fire, carbon monoxide and water leaks, and install water-temperature controls on bathroom faucets.
Bathroom Requirements
Shared bathrooms can be efficient and attractive with adequate lighting and storage, and modern fixtures and faucets. If you must add or remodel a bathroom, compartmentalize it so that more than one person can use the space at the same time. Opt for blade-style faucet handles and lever doorknobs. Install comfort-height toilets and curbless showers, dual vanities and use easy-care, durable sustainable materials.
Stairs and Hallways
Ranch homes are perfect for families with toddlers and young children, as well as for senior citizens. Aim for that hallways are as wide as possible, ideally four feet, and that doorways are 36 inches. Try to eliminate impediments like uneven flooring.
Finally, whether the living arrangement is short or long-term, try to adjust your routine to cater to the individual needs of each family member, allowing room for privacy and personal expression.